Three years ago today we boarded a plane and headed for our new life in Germany.  In some ways it feels like the three years have flown by, but in other ways it feels like an awful lot of life has happened. When I look back over all that's transpired these past three years, it's easy to focus on the things we've missed – engagements, weddings, babies making their earthly entrance and friends being called to their heavenly home. We've sent two of our kids across the world to college and will do the same next summer with our last. We've missed birthdays and Christmases and vacations with extended family. If I let myself dwell on these things, I can find myself wallowing in self-pity – and I never want to let myself go there. So, instead, I'm choosing to focus on the fact that Jesus asked us to follow Him and we did. And this path is full of His grace and mercy and joy.
Come to me, all who are weary and heavy laden, and I will give you rest. Take my yoke upon you, and learn from me; for I am gentle and humble of heart, and you will find rest for your soul.  For my yoke is easy and my burden is light.  Matthew 11:28-30
I'm reminded in this passage that we're commanded to take His yoke upon us. Honestly, who wants to do that?  Yokes look uncomfortable. They're big and heavy and burdensome.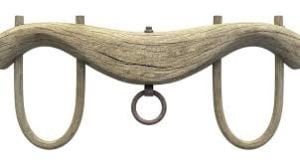 BUT . . . we're to take HIS yoke upon us. Sometimes I forget that a yoke is used to attach two animals together so they can share the burden of the heavy load they're pulling. When we take Jesus' yoke upon us, we're allowing Him to help us navigate all of the difficult situations we face. He promises that when we take His yoke upon us AND learn from Him, we'll find rest for our souls. We get to be yoked with Jesus . . . we get to have Him right next to us leading us, guiding us, teaching us.  Could there be anything better?
So, this is where I am today – choosing to put Jesus' yoke on and allowing Him to teach me. It's only in this place that I can honestly say that my soul finds rest.